WE MOVE IDEAS, PEOPLE AND INFORMATION
We drive economic, social and cultural development in the north east of Italy.
We design, build and manage infrastructure to improve interpersonal relationships and encourage the sharing of ideas, thereby promoting integrated and sustainable mobility.
An efficient mobility system must coordinate and connect roads and motorways to railways, ports and airports, as well as integrate virtual data highways and fibre-optic networks, running alongside physical motorways, which represent a powerful driver of mobility and accessibility for goods, people and information.
We use the most advanced technology and solutions to prevent road traffic accidents in order to guarantee safe and intelligent mobility for people and their vehicles, fully respecting the environmental balance and the surrounding landscape.
We make sure that staff development goes hand in hand with constant technical and technological advances, continuously building people's professional skills and abilities, who are already some of the most well-trained, experienced and committed in the industry.
We are the answer to the need for integrated and sustainable development, which is of fundamental importance for ideas, people and information to be able to travel towards the future.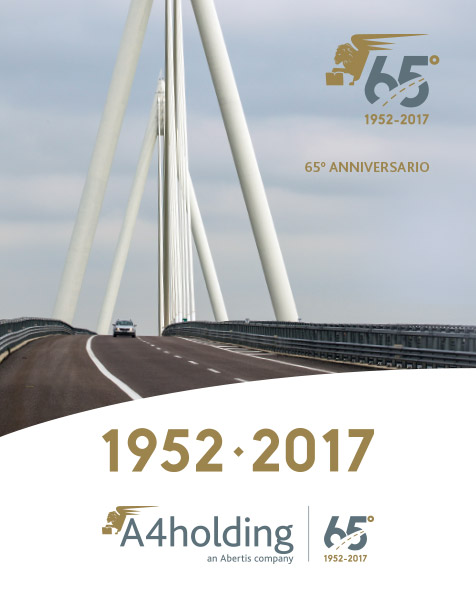 A4 Group was created to manage one of the most congested motorways in Italy and in Europe.
In 1952, the joint-stock company Autostrada Brescia, Verona, Vicenza, Padova S.p.A. was established in order to connect the east and west of Italy's Po Valley. The aim was to provide continuity for the existing stretches of motorway and boost industrial and economic development in the surrounding areas.
Today, the group's mission is to continue to support local development by improving the road system and by designing, building and managing new infrastructure,while at the same time developing integrated, innovative and technologically advanced solutions in order to guarantee a high standard of service and safety to travellers.
COMPANY VALUES
A4 Holding group is built on people, because it is only with the commitment, passion and experience of everyone that we can really make a difference. Respect for ourselves and for others, ethical conduct and professionalism in internal relations underpin our corporate culture and contribute to creating a sense of belonging.

Our daily activities are focused on the customer, we work to ensure that we're always ready and proactive, offering services, solutions and expertise able to guarantee innovation and excellence, anticipating customers' needs and wants.
We are known for our honesty, transparency and integrity. We act responsibly, always taking into consideration the social, economic and environmental consequences of our actions.
We're recognised as being skilled experts in our field because we combine know-how, ability and high-level mobility solutions.
Corporate Structure
Our Group reflects the areas, companies, bodies and institutions with whom we deal with and engage on a daily basis.
Our relationship with stakeholders, whether they be inside or outside the group, public or private, acts as a guarantee for reporting mechanisms, allowing us to transform every single initiative into solutions to develop and promote a vast number of interests.
The Shareholders' Meeting held on 8th September 2016 elected the Board of Directors and the Board of Statutory Auditors for the three-year period 2016-2017-2018, made up of the following individuals:
Board of Directors
Board of Directors
| | | |
| --- | --- | --- |
| 1. | Carlos del Rìo | (Chairman) |
| 2. | Sergi Loughney | (Director) |
| 3. | Daniel Ventín | (Director) |
| 4. | José Luis Viejo | (Director) |
| 5. | Martí Carbonell | (Director) |
| 6. | José Maria Coronas | (Director) |
| 7. | Costantino Toniolo | (Director) |
Board of Statutory Auditors
| | | |
| --- | --- | --- |
| 1. | Alfredo Checchetto | (Chairman) |
| 2. | Giambruno Castelletti | (Statutory auditor) |
| 3. | Antonio Franchitti | (Statutory auditor) |
| 4. | Leonardo Cossu | (Substitute statutory auditor) |
| 5. | Giuliano Terenghi | (Substitute statutory auditor) |
% SHARE CAPITAL
BRESCIA
PROVINCE
0,09%
Chamber of Commerce
1,57%
VERONA
MUNICIPALITY
4,65%
VICENZA
PROVINCE
2,05%
PADUA
Chamber of Commerce
1,35%
TOTAL PUBLIC BODIES
9,71%
ABERTIS ITALIA S.r.l.
90,03%
CASSA DI RISPARMIO DI VR-VI-BL-AN FOUNDATION
0,14%
SOCIETÀ ITALIANA PER COND.D'ACQUA S.p.a.
0,12%
TOTAL PRIVATE ENTITIES
90,29%
TOTAL
100%
A4 Holding in Italy is part of the Abertis Group, the worldwide leader in toll road management.
The corporate structure reflects the industrial model, with a flexible organisation structure able to deal with market objectives for each field of competence.
The 2017 Abertis Group presentation is available here.
For further information please contact us.
Corporate Governance
A4 Holding S.p.A. has implemented a governance system and set of rules that allow it to operate in accordance with the core values of sustainability: ethics, transparency, safety, social development, environmental protection, open dialogue with stakeholders, commitment to the local area and local economies.
A4 Holding S.p.A. will continue to invest in improving its conduct guidelines in order to adapt them to group development.
The Articles of association for A4 Holding S.p.A. describe the principles that govern the company's activities and management. The Articles of association also define the role of the shareholders and the criteria to appoint members of the Board of Directors and Board of Statutory Auditors.
The Code of Ethics identifies the core set of values that underpin corporate culture and translate into the principles and management policies used to implement best practices, guiding our daily conduct in all aspects of the business.
The aim of the A4 Holding S.p.A. Code of Ethics is to guide the Group's management activities on the basis of ethical values and operating principles, in order to promote clear behavioural guidelines. The purpose of this is to meet the needs of all stakeholders and to consolidate the company's positive reputation.
Italian Legislative Decree no. 231/2001 introduced into Italian law the administrative liability of legal persons, companies and associations.
A4 Holding S.p.A. adopted the organisation, management and control model in accordance with Italian Legislative Decree no. 231/2001, with the aim of creating a structured and methodical system of procedures and preventive control activities in order to prevent the crimes listed by the aforementioned decree. This is achieved by identifying any activities exposed to the risk of crime and subsequently introducing appropriate procedures to regulate them.
In accordance with Italian Legislative Decree no. 231/2001, the organisation, management and control model has also been adopted by controlled companies of strategic importance.
Supervisory Board
The Supervisory Board of A4 Holding S.p.A. is responsible for defining the organisation, management and control model for all Group companies, in order to avoid the Company being held liable for any administrative offences.
The Supervisory Board also has the role of implementing and analysing information flows that allow it to check whether the model is working properly and being duly complied with. The Supervisory Board also examines audit reports and plans any further activities.
In order to carry out its checks and controls, the Supervisory Board has drawn up an audit plan to make sure that all procedures are being correctly followed.