Our responsibility policy
We promote social responsibility policies not only among Group companies, but also in the relationships that we build with our stakeholders.
We are designing an integrated management system for aspects linked to quality, environmental protection and health and safety, in addition to the specific issues regarding the industries in which we operate.
We believe that sustainability represents a strategic top priority for business development, able to generate long-term value and create trust-based relationships with stakeholders. In this context, the Sustainability Report represents a tool to present and manage the impact of our activities on the communities and areas in which we operate, and to formalise our commitment.
OUR GOAL
Our goal, which we are committed to pursuing in developing the system, is to integrate the three dimensions of sustainability
ECONOMIC
The Company's impact on the economic performance of its stakeholders as well as the local and national economy
ENVIRONMENTAL
The Company's impact on the surrounding ecosystem
SOCIAL
The Company's impact on the social system in which it operates
In order to continuously create and distribute shared value over the long-term, at A4 Holding we recognise the importance of mapping, involving and listening to our stakeholders in order to be able to meet their expectations in a targeted manner. To this end, we have identified and mapped out our key stakeholders, with the aim of involving them in our ongoing path towards responsible management, creating relationships based on open dialogue and proactive collaboration. The purpose of this is to:
Improve mutual understanding
Improve service quality
Develop dialogue and shared growth processes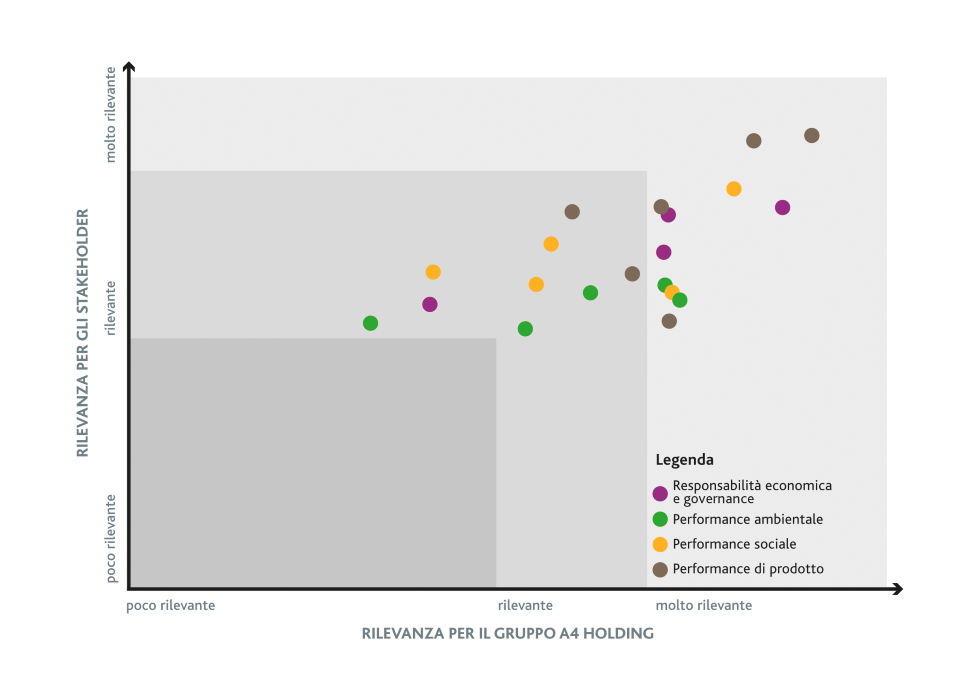 Materiality analysis refers to identifying the issues that matter most to a company and its stakeholders. It is a way of representing the issues that have an economic, reputational or environmental impact on our company, crossing them with how important they are for our stakeholders.
This analysis has been carried out based on the «GRI Sustainability Reporting Guidelines». A4 Holding has identified the economic, environmental and social issues that could potentially have the biggest impact on its activities. An in-house survey was used to assess the various topics, which allowed us to prioritise the material (relevant) issues based on their importance for the Group and its stakeholders.
Listening to customers is the first step towards providing an increasingly useful and valuable range of services, in line with market expectations.
Our services are dedicated to both end consumers, i.e. travellers, and business customers. The consumer segment mainly refers to tolls and refuelling, refreshment and hospitality services along the motorway, whereas the business segment involves the promotion of services and expertise regarding the world of infrastructure and mobility management.
In this broad and diversified market context, service levels are duly and regularly measured in order to monitor the level of customer satisfaction, not just with regard to service performance but also from a relationship point of view.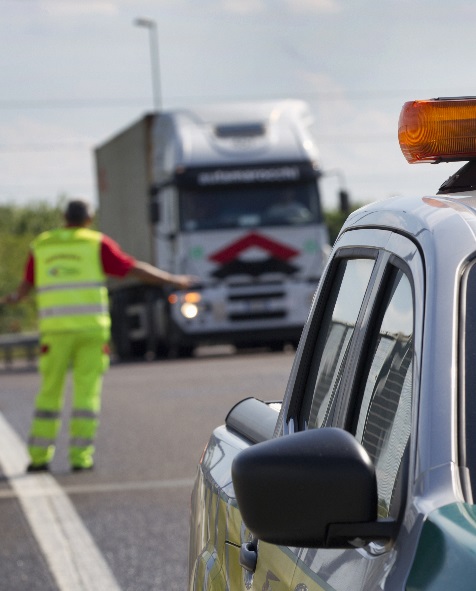 Safety: a top priority
We follow well-established policies and procedures in all areas of activity, so that the design, development and management of our infrastructure and systems can guarantee safety for people and their vehicles.
We apply international best practices, constantly monitor systems and infrastructure resources, proactively manage maintenance requirements, provide our staff with ongoing training and invest in technological innovation: all of this to support road safety.
Sustainability reports
Today's world sets us targets and assigns us responsibilities regarding our work and our social and environmental performance. A company's market value is no longer defined by just its financial results: we must also focus on non-financial performance, particularly regarding the respect for human rights, the environment and the communities in which we operate.
For further information please contact us.